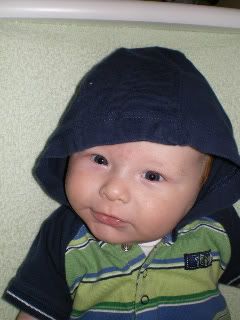 He's three months old, my beautiful boy. The reason I wake in the morning, much earlier than I would like. My reason for moving forward. My hope. My continued faith in a loving and aweful God. Wonderful boy.
My days are stressful. I have this sweet face to come home to. My calm. I find, despite my short attention span, I can stare at this wonderful creature for hours. Touch his little fingers, toes. Smell his sweetness. Listen to him coo, breathe, snore. I'm enthralled.
Can time slow down a bit? I don't want to miss any of this. Precious time. Growing, changing.